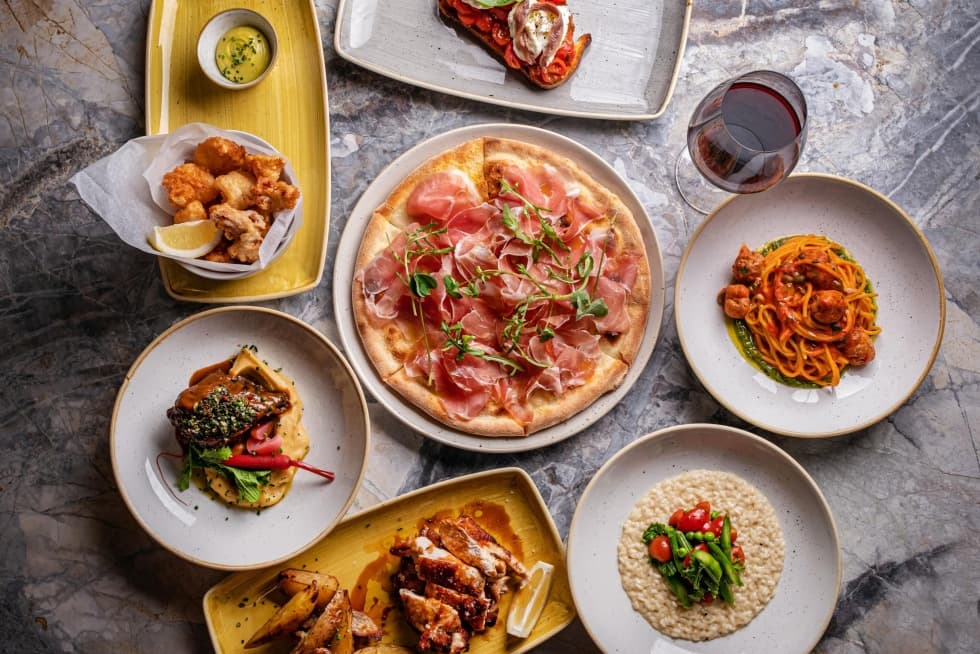 Every weekday we prepare different Italian specialties for you.
Veal tartar with quail egg and summer truffle
265,-
Fried sardines with saffron mayonaisse and mixed green salad
265,-
Grilled shrimps with cauliflower pureé, Spianata Calabra and pine nuts
265,-
Ravioli with king crab, wild fennel and lemon sauce
395,-
Risotto nero with grilled calamari and Datterino tomatoes
295,-
Tagliolini with chantarels, Fontina cheese and hazelnuts
285,-
Risotto with summer trufle and fried egg
365,-
Grilled octopus with gratinated aubergine and broccoli
425,-
Veal rib-eye steak with Marsala wine sauce
445,-
Wild piglet saddle with smoked potatoe pureé and garlic confit
395,-
Margherita
195,-
NApoli with anchovies and capers
195,-
Salame picante
215,-
Prosciutto Cotto
235,-
with Prosciutto di Carpegna
265,-
with marinated salmon and Datterino tomatoes
265,-
Vegetarian eggplant parmigiana
265,-
with summer truffle and Robiola cheese
315,-
Panna cotta of the day
165,-
Classic tiramisú
155,-
Fondant filled with almonds and white chocolate and blueberry sorbet
185,-
White chocolate cake with pistachios
185,-
Sorbet with Prosecco
195,-
The menu with labeled allergens is available upon request of the staff.
Service charge of 12, 5% will be added to the final bill for the groups of 8 and more guests. All prices are in Czech crowns and inluding VAT.