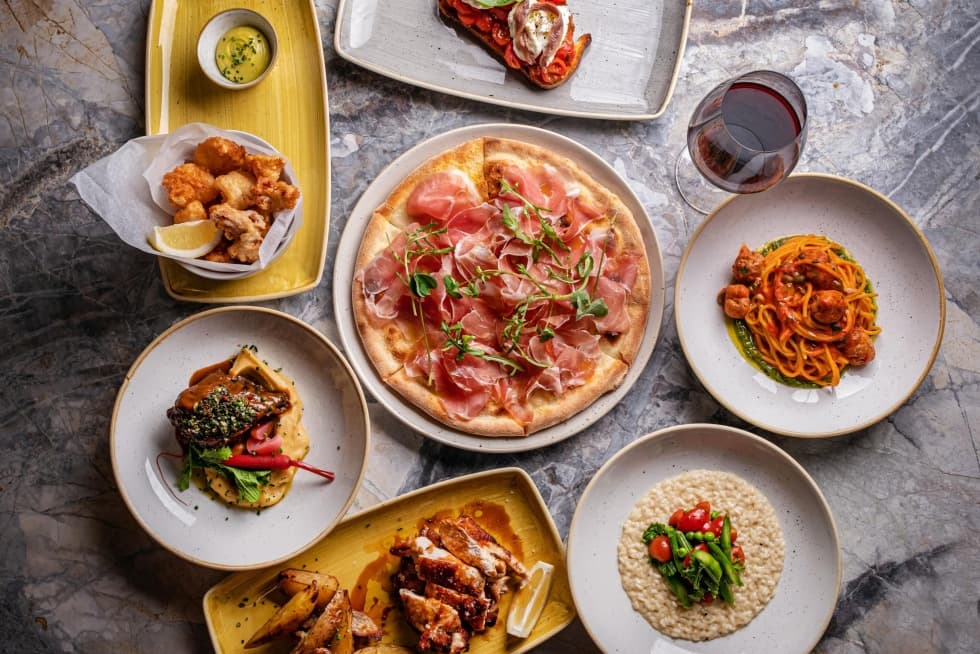 Every weekday we prepare different Italian specialties for you.
Veal tartar with quail egg and summer truffle
265,-
Salad with grilled porcini mushrooms, burrata and hazelnuts
245,-
Grilled shrimps with cauliflower pureé, Spianata Calabra and pine nuts
235,-
Ravioli with spinach, ricotta and summer truffle sauce
345,-
Risotto with chantarels and fried egg
285,-
Rigatoni with red deer ragout and Pecorino Romano foam
265,-
Tagliolini carbonara with summer truffle
365,-
Grilled octopus with Melanzane alla Parmigiana
395,-
Veal rib-eye steak with Marsala wine sauce
445,-
Guineafowl with potato pureé, sauted spinach and champignons
365,-
Margherita
195,-
Marinara with anchovies
195,-
Salame picante
215,-
with Mortadella and pistacchio
245,-
with Prosciutto di Carpegna
265,-
with beef tartar and mushrooms
265,-
Vegetarian eggplant parmigiana
265,-
with summer truffle and Robiola cheese
315,-
Panna cotta with berries
125,-
Classic tiramisú
145,-
Caramelized pineapple with vanilla ice-cream
145,-
Flourless chocolate cake with whipped cream and strawberrie
165,-
The menu with labeled allergens is available upon request of the staff.
Service charge of 12, 5% will be added to the final bill for the groups of 8 and more guests. All prices are in Czech crowns and inluding VAT.